Just Level, Lock, Tack & Trim!
What Grade Is Right For My Project?
Our most popular
Large Red & Black Knots

Available in Clear Coat only

Tongue & Groove (WP4)
End-matched EZ-Lock
6" width only
Less than 5% Waste
Premium quality
Smaller Red Knots
Available in 9 Colors
3 Premium Patterns
End-matched EZ-Lock
6" and 8" widths
Virtually no waste
Pre-Finished Eastern White Pine For Easy Installation
At Johnson Pine, we are dedicated to bringing the warmth of pine straight from our woods to your home. Now anyone can install pine walls or ceilings with our fast, affordable, and simple, end matched EZ-Lock Pine System. Just pick your color and pattern. With four simple steps, you are on your way to beautiful real wood in your home. Family owned and sourced for 45 years since 1977 – right here in Upstate New York. Real Pine, Real Easy. Made In The USA!
Available in 6" or 8" boards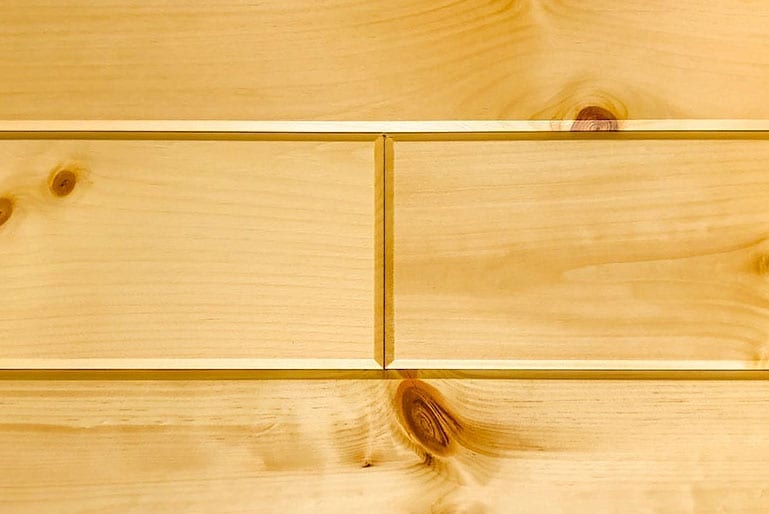 V-Groove
Tongue & Groove
(WP4)
A Classic Tongue & Groove WP4 Pattern helps any room in your home stand out.
Nickel Gap
Tongue & Groove
-
Get a modern shiplap look and hide your nails with this tongue and groove pattern. Both smooth and wirebrush textures available.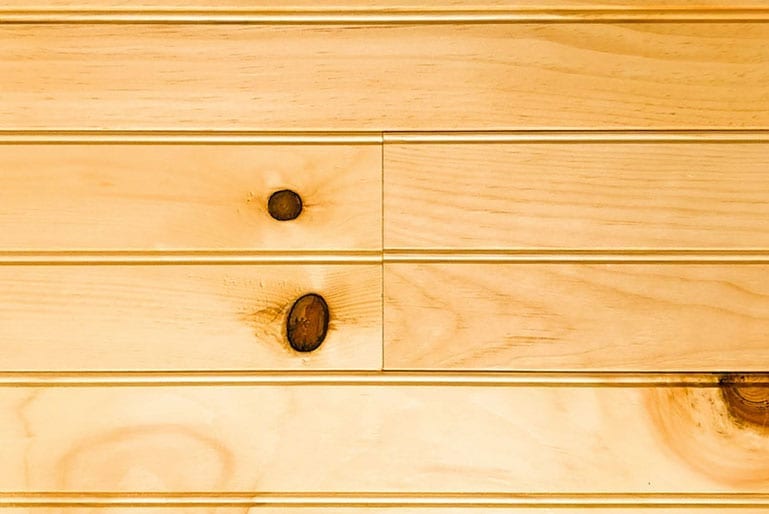 Edge & Center Bead
Tongue & Groove
(ECB)
This repeatable bead pattern is ideal for wainscoting, ceilings, and wall paneling.
effortless installs with four easy steps
At Johnson Pine, we end-match all of our Pre-Finished pine lumber, saving our customers time and money. End-Matching is the addition of the tongue and groove profile on the ends of the boards. This makes installation fast by removing the need to land on a stud and locks in the board on all four sides for added structural strength. Installation is faster with practically no trimming necessary and with far less waste than traditional methods. No longer is there a need for all 12' & 16' boards, with end-matching, using 4', 6', 8' & 10' is preferred!
perfect edging available in three sizes and Every color
What Our Customers Say...
We do really love the new look of our ceiling! It feels so warm & so inviting. It was such a great product to work with! If we do any future projects that will involve T & G, it will definitely be with your lumber.
Terry K
We always get the pre-finished T&G from Johnson's Lumber and the finished product is always beautiful. They take pride in making sure their products are well bundled to ensure the boards we have received are not damaged. We love the variety of colors they offer besides the natural T&G. Another bonus is we get the end matching it's easy to install!
Kelly C
Customer service was great to help determine the right amount of board feet. Shipping was prompt and everything was packed well to prevent damage in shipping. The quality of the wood and the finish was excellent.
Bill B
We searched through several companies and received several samples. We settled on Johnson Pine because it was the best combination of price, quality and speed of delivery. The customer service was great and they were very helpful answering questions. We ordered approximately 1750 sq ft of pine and it came faster than expected and was exactly what was described when we ordered. We would highly recommend for anyone looking for this type of wood.
John G
What an outstanding company. Very responsive to any request and great communication from this family-owned business. I cannot say enough about how happy I was with my order that was shipped to the mountains of NC. Everything arrived without a hitch and not one piece was damaged. The way they crate your order is fantastic.
David D
Johnson pine is a family run business and they treated you as such. They were easy to work with and delivery to Kentucky was handled very well. Most important, the product was fantastic and very high quality. I most definitely recommend them.
Eugene D
All I can say is the whole experience was fantastic. Everything was bundled and protected nicely and I had no problems with anything being damaged during shipping. The boards were nice and straight and everything fit together nicely. The project came out great. They really go the extra mile to make sure the customer is happy with their project. It's a nice family business in upstate New York and they do a great job.
Randy F
Beautiful product, installed over a mile of the 6" V-groove blue stain pine, looks amazing, one of a kind stuff. To me, the grooved ends really sets Johnsons apart from anything else, no more measuring and having to butt on a stud, minimizing to all but eliminating waste, and giving an incredible look, that can't be had from big box or stock lumber yard pine.
John D
We love our copper nickel-gap pine. Even more beautiful in person.
KC D
Great selection of beautiful white pine
Chris H
Highly recommend their quality products and expertise for the beauty of many different types of pine products
Chuck W